The best offseason in all of sports belongs to the NBA. Players follow / unfollow various players and teams and it becomes major headlines. Emojis such as " 👀" are cryptically tweeted out as fan's decipher their meaning. Rumors spread faster on Twitter than at a high school cafeteria. Entertaining is an understatement.
The drama usually begins after the NBA Finals, but last night, The Ringer posted a bombshell. The story, which you can read here, claims that Bryan Colangelo, the Philadelphia 76ers President of Basketball Operations, used secret Twitter accounts to criticize players and the organization. Here is a breakdown of the claims against Colangelo from the article.
The Ringer – In February, The Ringer received an anonymous tip that Bryan Colangelo, the Philadelphia 76ers' president of basketball operations, had been secretly operating five Twitter accounts. Since then, we have scrutinized and archived those accounts in an attempt to verify the source's claims that the longtime NBA executive has been using them as a platform to:
Criticize NBA players, including Joel Embiid, Jahlil Okafor, and Nerlens Noel
Publicly debate the decisions of his own coaching staff, as well as critique former Sixers general manager Sam Hinkie and Toronto Raptors president Masai Ujiri
Telegraph the 2017 trade in which the Sixers acquired the no. 1 overall pick that would become Markelle Fultz
Disclose nonpublic medical information about Okafor and gossip about Embiid and Fultz to members of the national and Philadelphia media
The five accounts pinpointed by the unnamed source included one that followed media members, Sixers employees, and NBA agents but never tweets (its handle is @phila1234567, and it has no account name), and four that have posted tweets or replied to other users. Of those, one was active between April 2016 and May 2017 (its account name is Eric jr, and its handle is @AlVic40117560), two were active within the past five months (HonestAbe / @Honesta34197118 and Enoughunkownsources / @Enoughunkownso1), and one was posting several times a day (Still Balling / @s_bonhams) and as recently as last week.
It's a lot to process so to get the full scope of the story, I highly suggest reading the article. However, my initial reaction to reading the story can be described with this gif.
Bryan Colangelo is the President of Basketball Operations for the Sixers. What does he have to gain by making burner accounts? Have we not learned that burner accounts always lead to trouble?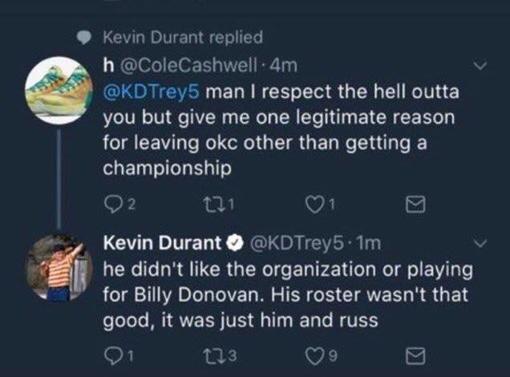 If the story is true, my takeaway is that Colangelo was not very popular with Philly fans after Sam Hinkie's resignation. Instead of waiting out the storm, Colangelo tried to fight it head on with these accounts and make the public side with him. It's a horrible case of sour grapes. The fans proclaimed Hinkie as the savior, they "trusted the process," and credit Hinkie, not Colangelo, as the savior.
These burner accounts did not just criticize Hinkie. Brett Brown, Markelle Fultz, Ben Simmons, Masai Ujiri, and the NBA Twitter's GOAT, Joel Embiid, were also brought up in many negative tweets. Besides criticism, these accounts were giving away private medical information as well as front office discussions.
So, let's talk about the elephant in the room: Is Bryan Colangelo behind all of these secret Twitter accounts? I'd like to believe the President of Basketball Operations would not do this, but these claims in the article may change your opinion. If it's true, you have to fire Colangelo. How can you keep a guy that bashes the players, coaches, and organization? The private medical information and inner drama is why I agree with what Woj said below.
The NBA Finals have not started yet and the drama of the offseason has begun. Grab your popcorn. This is about to get interesting.
To wrap it up, let's take some time to appreciate Joel Embiid's timeline from last night.