Nothing makes great television like a good return. Perhaps this character disappeared for awhile and comes in to save the day like when Tommy came back as the White Ranger in Mighty Morphin Power Rangers. Other times, the character might be presumed dead, but in all actuality, they are alive like when The Hound showed up in the later seasons of Game of Thrones.
On last night's Jersey Shore: Family Vacation, the Staten Island Princess aka Trash Bags aka the "Dirty Little Hamster" returned to the house. That's right, Angelina is back. As some of the cast alluded to, the house was pretty calm and laid back. A couple catfights here and there, but nothing major. The peace had to end. To say I was excited for Angelina to return was an understatement. Everyone loves conflict and chaos and Angelina specializes in both.
Recap time.
Season 1, Episode 9: "Umm, Hello"
– I'm saving Angelina for the end of this recap.
– Is it me or have the Jersey Shore producers gone soft? They allow iPads and iTouches last week. Now, they're letting the girls go home to see their families? What happened to no phones, no Internet, no tv, and no contact with the outside world? #NotMyProducers
– In honor of Ronnie writing a note that would make a five year old cringe, let's relive one of the best moments in reality television history.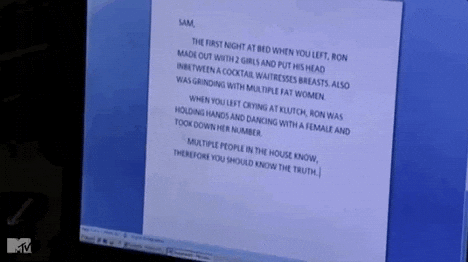 Put this note on my tombstone.
– In the latest example of "Ronnie still loves Sammi," Ron Ron made the executive decision to call Pauly D's girl a cab home. There's no way Ron is jealous. No chance at all…
P.S. When, not if, Ron and Sam get back together, MTV better broadcast their wedding.
"Pauly has his first smush of the vacation." Ok MTV social media person. Trying to be hip with the lingo. I see you!
– Mike has to weigh over 200 pounds, right? All this guy does is eat! Then again, he doesn't drink anymore so maybe it evens out?
– The truest statement to ever come out of Mike's mouth.
– I'm skipping over the boys driving cars and the girls visiting their families. If you didn't watch, it's not important. Let's get to main event.
– If Pauly D really had the idea of bringing back Angelina, kudos to him because that is a 10/10 idea. The Sam doll was funny, but bringing back Angelina was legendary. Thank you for your service, Pauly.
– Right off the bat, Angelina came in swinging.
– If you didn't watch the early seasons of Jersey Shore, I suggest you watch highlights on YouTube to give yourself a refresher on Angelina. She only stayed a few episodes in Season 1, but Season 2 in Miami is where she made her mark. Not only did she get physical with Mike, but she had an all-out BRAWL with Snooki.
– They don't make reality tv characters like Angelina anymore. She is the kryptonite of the cast. I have always wondered if she regrets leaving the house not once, but twice. Who am I kidding? She 100% regrets leaving the house!
Angelina is not innocent. Most of the time, she was obnoxious, nasty, and arrogant. That being said, Mike was no angel. Looking back and knowing that Mike was a drug addict definitely puts a lot of things into perspective in terms of his treatment of Angelina. Mike was calling her a trash bag and a dirty little hamster left and right. Not good! Angelina even said that Mike was the main reason why she left and to her defense, I'd agree with that. However, Angelina only cared about being blocked on Twitter, not the list of insults. To say I'm not surprised would be accurate.
– However, Angelina vs. The Girls is a different story. Mike vs. Angelina wasn't a fair fight, but Angelina vs. Snooki and JWoww was a heavyweight matchup. Quick flashback to Miami and Jenni's iconic threat to Angelina.
"You wanna get your ass beat, you get your ass beat. You can stay, get your ass beat. You cant stay, get your ass beat. You can stay, get your F'n ass beat."
Will we see another fist fight next week? I doubt it. But this is the most excited I have been for an episode this entire season. As Bart Scott said, "Can't wait."