That's all she wrote, folks. This Is Us wrapped up its second season last night as Kate and Toby finally walked down the aisle at their wedding. The duo were not the only ones to celebrate a marriage. During a flash forward in which we later found out was a dream, Jack and Rebecca renewed their wedding vows on their 40th anniversary. A lot of love was in the air, but troubled times are on the way as seen in the ending scenes. For the last time of the season, let's get into the reaction.
Season 2, Episode 18: "The Wedding"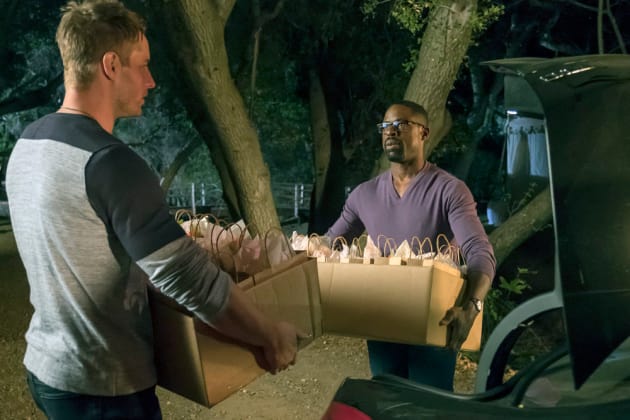 – I will get into more general thoughts on Season 2 at the end of the article, but last night's finale and last week's Deja-filled episode were two of the best episodes of the season. The process of building up to Jack's death, revealing his death, and then moving on dominated most of Season 2. Sometimes it worked (Jack's last day alive, Deja's own episode last week) and other times it fell short (Bachelor party episode, Parts throughout the Big 3 Solo episodes). Going back to my original point, This Is Us saved their best for last.
– Kate missing Jack on her wedding day should not have come as a surprise to anyone. I was talking with a Kat(i)e during the episode and she brought up a great point of the father – daughter dynamic at a wedding especially when it comes to walking down the aisle. Not having the father to walk the bride down the aisle must be extremely heartbreaking. It explains why Kate wanted Jack's urn at the wedding. Even if he's not physically there, a piece of Jack symbolically watched his daughter walk down the aisle. Plus, the dream sequences showed us what it would've looked like if Jack were still alive. In reference to her character, Kate is at her best whenever she interacts with Jack or has plot points developed around her memories with Jack. From speaking with other fans, it seems that a lot of Kate's problems with her mother, weight, and job make her storyline not as appealing compared to Randall or even Kevin. However, Kate truly gets to shine when her love and emotion for her father takeover on screen.
– Speaking of mothers, we finally saw Rebecca and Kate patch things up…for now. I personally waited all season for this heart to heart and it seemed to drag on for awhile, but now looking back, the wedding was the perfect time to do it. Will Rebecca and Kate finally get along post wedding?
–  Toby Bryant. Toby had an up-and-down season. I do not like his character when he becomes overbearing and latches on to Kate. As a viewer, you want to say, "Just leave her alone right now. She needs a minute." However, Toby had a very good scene with his parents, played by Dan Lauria and Wendie Malick. This is the Toby I want. The perfect mix of comedic relief and seriousness. Toby doesn't seem like a lost puppy, but instead, he's a strong supporting character. Foreshadow alert as it seems Toby's parents will be right about his depression / sickness returning.
– Randall, Beth, and Deja, and a partridge in a pear tree. Just when you think that it will get better, Deja decides to smash a windshield with a bat. In simplest terms, Deja has daddy issues. Can you blame her? She's been in and out of foster care, her mother gave up her parenting rights, and the one time Deja was happy in the episode, it disappears when she is confused for Randall's daughter. Daddy issues are coming hard next season so don't be surprised if Deja's biological confronts Randall at some point. Also, I still believe that something is up with Beth. I'm not sure if it's health-related or trouble in paradise with Randall. I can't put my finger on it now, but more confrontation between America's new favorite couple is on the horizon.
– Miguel! I need more of Miguel next year. He's such a good guy and it turns out he's also really funny.
– I am all for Kevin and Randall providing comedic relief in their interactions. Usually, Kevin dominates this category, but Randall and his cheesy humor has grown on me.
– Kevin and Randall's Speeches and the flash forwards. I had a lot of problems with Kevin's arc this season. His dark, troubled turn this season made me lose sympathy for him. He came off as a bad guy to me instead of a troubled character who struggles with grieving. His "deep breath" speech was the honest, fun-loving Kevin that I came to love throughout Season 1. No more dark turns for Kevin. Randall, as always, was Randall. With every word Randall says, the more captivated and interested I become.
Our flash forwards saw Toby depressed with Kate saying to "change his meds." Depression or fatal disease? Kevin was on a plane with Beth's cousin, Zoe, as he looked at Jack's Vietnam photo. New couple alert? Is Kevin about to investigate what happened with Jack during the war? Finally, Future Randall and Future Tess are nervous about visiting "her." Is Beth sick or divorced from Randall? Are Deja or Annie in trouble?
Final Thoughts On Season 2
Season 2 had its peaks and valleys. Coming off of a strong first season, I worried that the show would experience a sophomore slump. To a degree, it did experience rough patches just because season one was fantastic so it would be hard to recreate that same magic from last year. I felt that something was missing throughout the season and that was William. William and Randall's storylines took This Is Us to new heights. William was irreplaceable and you could definitely feel his absence. Also, Season 2 was very dark compared to the first season. A lot of sadder moments throughout the season due to the buildup and execution towards Jack's death. I hope darker moments are more balanced with happier, lighter moments next year. That being said, I still enjoyed the season as a whole. Mandy Moore took a giant step this year in terms of top characters, Sterling K. Brown still did his thing, and the emergence of Deja along with flash forwards brought new twists to the Big 3. This Is Us is still one of my favorite shows on television and you better believe I will be glued to my chair for Season 3. Thank you to everyone who read and commented on these reviews. It truly means a lot.
Big Three and DG out.