February 26, 2017. The Announcement Heard Round The World.
"Best Picture goes to La La…NOW WAIT JUST A SECOND."
One year later and I still can't even fathom what happened. It was the perfect storm of a mistake. Warren Beatty, bless his heart, getting confused over the wrong envelope. Faye Dunaway with the "Screw it, Warren. Just read it," moment. The cast of La La Land erupting in excitement, going on stage, and thanking their loved ones for winning. Just like a meal at Taco Bell, the fun did not last and stomachs began to drop. Something was wrong.
Jordan Horowitz with the mic drop moment.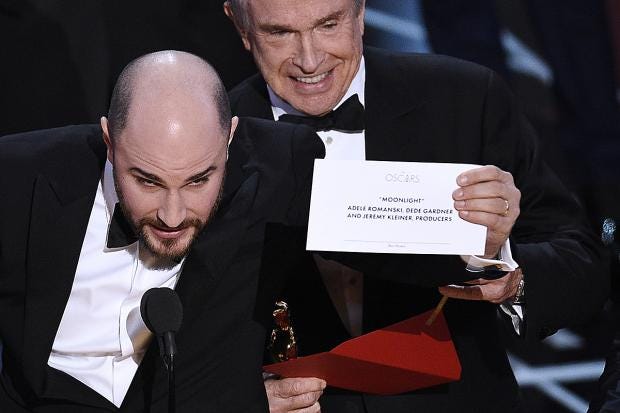 Moonlight, you won Best Picture. Wow, just wow. Just like that, Steve Harvey was off the hook. I wrote this instant reaction when it happened and said, "Holy Shit. I think that might be the biggest mistake / blunder / fuck up to ever happen at an awards show." I stand by that statement.
Now that I had a chance to think about it, as entertaining as that was, I feel bad for cast of Moonlight. Sure, people will never forget where they were when Moonlight actually ended up winning the Oscar for Best Picture. However, their underdog success story did not get the proper moment in the spotlight. When you hear your name or movie called out as the winner, the room is met with cheers, sometimes screams, of happiness and excitement. Tears begin to flow down faces. Hugs and kisses populate the theater. Fist pumps and high fives are electric as the cast walks up onto the stage. It's THEIR moment with nothing to overshadow it. I was so happy that Moonlight won, but all I could think about was the mistake. It took away from the celebration that this independent movie earned and deserved.
Real quick, I just want to pat myself on the back again. This is from my Oscars predictions and Top 10 articles from 2017. Ok, no more gloating.
I can guarantee one thing and one thing only. That type of mistake will never happen again. However, the thought of a blunder of gigantic proportion is why the Oscars are must-see television again. See you on March 4th.