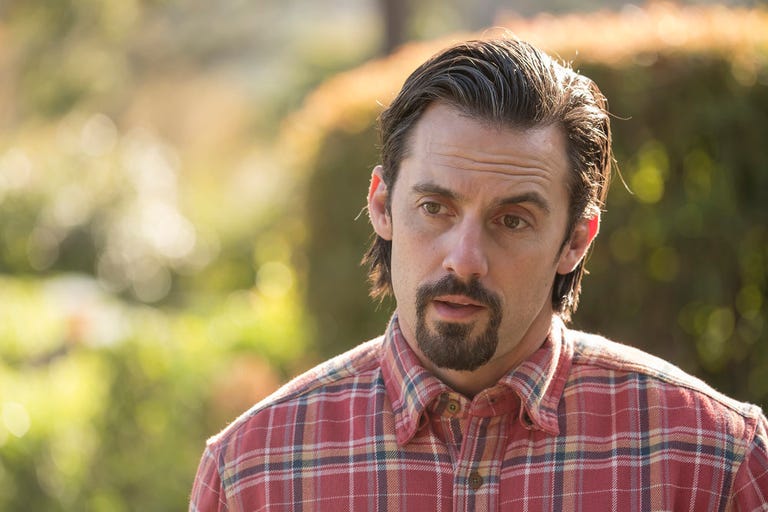 Are you still breathing after last night's episode? As of late, the last five minutes in the past two shows have been eye-opening, shocking, and upsetting. I mean all of that in a good a way because we have arrived at the point in the show that everyone has dreaded / wanted to see. Jack is going to die and we are going to find out how.
Side note, huge win for this cast at the SAG Awards. I was so pumped!
Season 2, Episode 13: "That'll Be The Day"
– 'Cause that'll be the day… when I die
– Just like last week, I want to talk about everything else before we go into the past and mention "you know what."
– Time is clearly the theme of the episode. Everyone wants more of it and they want to capitalize on it now because as the song goes, "cause that'll be the day when I die." Kevin needs time to check off the names on his list, Randall is racing against time to fix the building, and Jack is buying his time before he can fully jump into Big Three Homes.
– You want to know why Sterling K. Brown won the SAG Award the other night? Go right to his scene with Kevin in the apartment building where they talk about Jack. Randall has always had anxiety and seems to put unnecessary pressure on himself in order to be perfect. We now find out why Randall has done that as of late and that's because of his age and its proximity to Jack's age when he died. When you do the math, Randall did not have a father for very long. He had Jack for about 17 years and he had William for about 1 year. Randall is afraid that just like his previous fathers, he will die abruptly and leave his family behind to pick up the pieces. Randall doesn't see himself living past Jack. Perhaps a big accident or illness for Randall in the future where he has to pull through?
– Kate and dogs are like lamb and tunafish. In turn, Toby is a guy who seems like he's the guy in the pet store who asks to pet every dog. Kate finally buying the dog tells me that she's ready to talk about her father's death with Toby. It's time. Dogs have been an emotional trigger to Jack's death throughout her life. WHY? This dog keeps me up at night. How and why was it involved in the death? Let's just say I have talked about it a lot since September.
These are points are from four separate articles I wrote in the past couple of months.
Obsessed much, Dan?
– Kevin and his list.
Kevin does not know how to let things go, which is why he has turned to pills and alcohol in times of grief. However, ever since his rehab stint, Kevin has been trying to patch things up with everyone that he has wronged. Once he does that, he can physically check them off of his apology list. Randall, Rebecca, etc. Tonight, he checked off Sophie and as a fan of Kevin, that one hurt. I've missed Sophie this season so to finally get her back in a scene only to breakup with Kevin was a double-edged sword. But, karma worked it's magic as he got his Dad's necklace back from Charlotte. Speaking of the list, Jack is the last person on Kevin's list. Kevin never got to apologize to him because…
– It's time to play "What Did We Learn About Jack's Death This Episode?"
No batteries in the smoke alarm, Rebecca's dish towel that once covered a bracelet, and…drumroll please…a crockpot started the fire!!!!!!!
– After all of the guesses, from the faulty washing machine to cigarettes, it was a crockpot with a messed up switch that started the fire. The crockpot switch didn't work, it sparked up, Rebecca's towel (which once covered a bracelet) caught the spark, and the fire has started. I'm kind've relieved it was just a crockpot because it shows the randomness of death. You can't prepare for it. You don't know when or how your are going to die. It just happens in ways we can't explain even if that means we die from a neighbor's crockpot. Side note, if there is a significance to the crockpot that I missing, please let me know.
– Crockpot sales have to go down. It's inevitable.
– Jack and Rebecca's scene talking about becoming partners and starting a business was just cruel. Jack's note to Kevin…also cruel! We saw that both Kate and Randall were able to have a last moment with their dad before the fire. Kate apologized for her outburst in regards to Jack filming her and Randall talked about his date to see Titanic. If I was Randall, I don't blame him for going because Titanic is awesome. Ironic that Randall saw a movie about an indestructible ship that sunk with the captain going down with his vessel. The Pearson family and their house are about to be destroyed and their captain is going down with it.
– You want to know why This Is Us is so well-written? Jack died on his favorite day of the year, Super Bowl Sunday, after the big game. When are we going to see Jack die? On America's favorite day of the year, Super Bowl Sunday, after the big game. It's so simple yet such next level thinking. I love that coincidence. Ratings should be very high when the next episode airs.
– Let's play house for a second. Who do we know is in the house during the fire?
Jack and Rebecca are room sleeping in their room.
Kate is in her room, headphones might be on (?).
Randall is in his room.
THE DOG
Kevin is not there. He is at Sophie's, but he has most likely traveled to the woods party that he mentioned in the episode.
– I will wrap up with these final questions:
Why is the dog significant? A LOT of people are now on the bandwagon of "Jack runs into the house to save the dog but dies instead." This is a very good theory and I like it. However, is the dog a diversion? This Is Us is not so obvious when it comes to the plot of the show, hence all of the twists and turns. Is Jack dying because of the dog too simple?
Why does Kate blame herself for Jack's death? The easy answer right now would be the dog. Kate screams that the dog is still in the house, Jack runs in to save it, and dies. Since Jack would do anything for Kate, it would be no surprise to anyone if Jack runs into a burning house for Kate's dog. Also, the theory can be adjusted just a little. Kate goes into the house to save her dog, Jack then saves both of them, and dies. That's possible, too.
How does Jack die? We have all the clues. Now, it's time to see it on-screen. According to Milo Ventimiglia, it will be an "absolute soul-crushing event." America isn't upset or anything! After going into some forums and reading up on some theories and facts I missed, I think this dog is going to be a diversion. Here's why. Does Jack know that Kevin was staying at Sophie's house? Does Kate know that Kevin was staying at Sophie's house? Only Rebecca knows this. Is it possible that in the heat of battle (I, thank you), she forgets to mention this because she's clearly occupied with saving her family? Perhaps Kate mentions to Jack that Kevin might still be in the basement and he goes back in to save him. It would explain why Kate blames herself for Jack's death and always looks after Kevin. Your guess is as good as mine. I love to go against the grain so I'm switching from saving the dog to saving Kevin.
– Final, final thought: Those last five minutes were some of the best television I have seen in awhile. The music, the setup, the details. Everything about it was spectacular. I was on the edge of my seat the whole time. I will leave you with the final song from that scene. Read these lyrics. "
And, I built a home
For you
For me
Until it disappeared
From me
From you
And now, it's time to leave and turn to dust
See everyone Super Bowl Sunday.