Variety – Paramount Players is moving forward with an adaptation of the classic Nickelodeon show "Are You Afraid of the Dark" as a feature film and set "It" scribe Gary Dauberman to write the script.
Matt Kaplan is producing along with Dauberman.
Created by D.J. MacHale and Ned Kandel, the 1990s anthology series was set around a group of kids who called themselves the Midnight Society and would tell various scary stories, some of which were based on fairytales and urban legends but with an added modern twist.
Huge news for for Elementary School Dan. The show that scared the shit out of me as a kid is coming back as a movie and I could not be happier. I LOVED Are You Afraid of the Dark. The kids in the Midnight Society were arguably the bravest kids I knew. It was my first introduction to horror. It's also fitting that the writer for "It" is penning the new adaption because It also scared me senseless.
Along with Goosebumps, Are You Afraid of the Dark brought the heat in terms of horror. I mean imagine you're a 5 or 6 year old kid watching this. How could you go to sleep at night? I would know because that happened to me multiple times, which is why I had to watch the show during the day. From clowns to zombies, the Midnight Society were better storytellers than Shakespeare.
Here are my Top 5 episodes.
The Tale of the Thirteenth Floor
Just because something says it's a toy factory, does NOT mean you should go alone. God dammit, Karen. You should've stayed home!
The Tale of the Ghastly Grinner
This is pretty self explanatory. I mean look at The Ghastly Grinner. I dare you to look at this when you go home before bed. No way you fall asleep and if you don't sleep with the light on, it was nice knowing you.
The Tale of the Midnight Ride
I'm a sucker for any adaption of the Headless Horseman. There's just something about a horsemen with a pumpkin on his head to remind myself why I hate Halloween.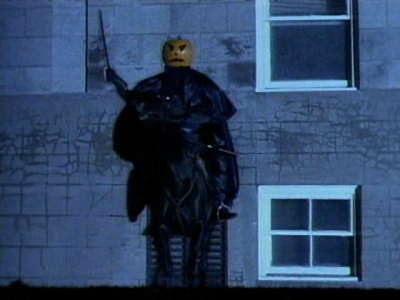 The Tale of Laughing in the Dark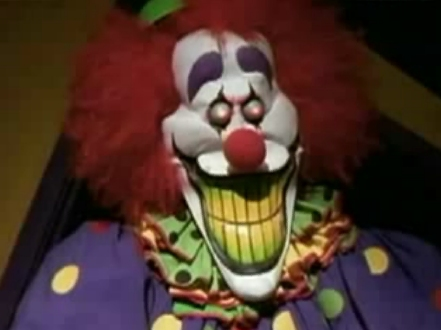 I'm not saying this. I'm yelling it. SCREW ZEEBO THE CLOWN.
The Tale of The Dead Man's Float
As a lifeguard, this one hits home. This one actually affected me because I was scared to touch the drain at the bottom of the pool for fear of this monster taking me away. It's also why I'm afraid of indoor pools because the Pool Zombie could be there. I refuse to swim alone. You really think I'm kidding…
Until next time.