To the courtroom, we go! Besides Kevin, all of our main characters dealt with the judicial system in some way shape or form. Kate and Toby went for a marriage license, Randall and Deja went to prison, Rebecca and Jack fought to keep Randall, and William began to unravel. Oh yeah, Kevin continues to spiral out of control. Reaction time!
Season 2, Episode 7: 'The Most Disappointed Man'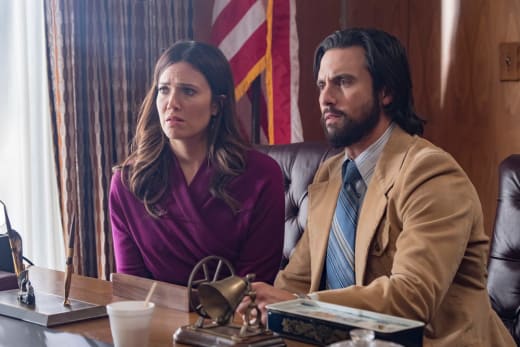 – Not everything was rainbows and butterflies for the Pearson Family. Both Rebecca and Jack had to prove to the court system and in particular, Judge Bradley, that they could handle Randall Up until now, the show really hasn't covered Randall's adoption besides Rebecca's talk with William. Racism and how the Pearsons react to it is starting to become a theme of Season 2. Adopting an African American son to an all white family was not common back in the 1970s so it's a relevant conversation to be having. Judge Bradley even dropped the N-word to reaffirm his belief that he didn't think Randall should be with the Pearsons. However, he never met Jack and Rebecca.
– As much as I love all of this backstory, I'm starting to grow anxious and miss Jack and Rebecca post separation. I understand they can't just jump into the events leading up to Jack's death right away, but I'd love to get back to the Teenage Big 3 and their relationship with Jack post marital problems. I'm okay with being patient for the death, but it's starting to jump all over in the past so it can be hard to keep up.
– Randall and Deja go to prison. First things first, shoutout to Kitty from That 70s Show!
Anyway, the writers have been toying with Randall's thoughts and emotions all season long and I am all for it. The more Sterling K. Brown, the better. The most powerful scene of the night was between Randall and Deja's mom, Shauna. You learn that Shauna opted out of seeing Deja because she was jumped and had bruises on her face, which was very understandable. Randall tries to view this argument as good guy vs. bad guy, but you quickly realize that Shauna is not the villain. She's just been unlucky up to this point. There is no good or evil. There is just Deja. I love the parallels of Randall's adoption to Deja's adoption. Rebecca thought she was doing right by protecting Randall from William. Randall now thinks he is doing right by keeping Deja away from her mother. Randall not knowing his biological parents haunted him his whole life and he soon realizes that he can't do that to Deja. A very touching moment when Randall allowed Shauna to call Deja. I see a custody battle on the horizon.
– Remember that Kate and Toby marriage tease? Well, I'll say it. I told you so. This was from my last recap.
There was ZERO chance the show could go on without a present day wedding. None. Now, we are going to get a marriage episode at the end of the season / early next season. I'm for it because a lot of drama always happens at weddings. I've been a little tough on Toby before, but his best scenes of the season happened when he was talking to Jack's urn and then, his proposal to Kate. It mixed funny and charming perfectly, which is exactly what I like about Toby. More of that and less worrying about Kate and the baby.
– Kevin. Ugh. Oh Kevin. This one is a tough pill for me to swallow ( I thank you). Kevin is going off a cliff. He's a drug addict and a loner. The one person that loves him more than anything, Sophie, can't even help him. I'm not the biggest fan of this storyline because I don't know what is the end game. He goes to rehab and cleans up? Not for me. I hate to go supernatural on y'all, but I'd be for a ghost Jack talking to Kevin, telling him everything is going to be ok and his death was nobody's fault. He's got to get back with Sophie. Also, when does he have to go on set again? I feel like the movie should've ended shooting already.
Anyway, this is a perfect transition into next week's episode, which kicks off the trilogy of Big 3 episodes. We start with Kevin and we'll explore the knee injury and how he handled it with Jack. I'm very excited for this episode. See you next week!