It's been talked about for months, but the two entertainment moguls just put their John Hancocks on the fight of a lifetime. Mayweather and McGregor both took to social media to confirm the news to fans and media. Just like that the trolling starts with McGregor using a photo of Mayweather's dad instead of Floyd himself. The build up to this fight is going to be really fun, probably way better than the actual boxing that will take place in the ring August 26th at the T-Mobile Arena in Las Vegas.
THE FIGHT IS ON. pic.twitter.com/KhW0u3jRft

— Conor McGregor (@TheNotoriousMMA) June 14, 2017
UFC President Dana White appeared on SportsCenter to break the news saying this will be a middleweight fight close to what both usually fight around with the 154-pound mark being the barometer for August. The mega-fight will be broadcasted in partner with Showtime PPV. White said negotiations ended up going "smooth."
Money Mayweather, who hasn't fought since his match up with Andre Berto in 2015, puts his undefeated 49-0 boxing record on the line as he eyes up another nine figure payday. No word yet on if it will match his $250,000,000 gate from the Pacquiao bout in May 2015. One thing is for sure, the 28-year-old southpaw who has never boxed will make more money in this fight than he will his entire UFC career. (Estimated $75-100 million purse for Conor)
Vegas oddsmakers currently have Mayweather as a -1100 favorite (meaning you would have to bet $1,100 to make just $100 on a bet for the novices out there) while McGregor sits at a +700 (7/1) heavy underdog.
A fight that once seemed impossible somehow got talked into existence because there was just too much money on the line for either to pass up. Seriously, what do they have to lose here? McGregor has no shame in losing to one of the greatest ever in a sport he's never professionally competed in. Floyd will be laughing to the bank with this one folks like he always does.
LTS: I know it's a little early for picks people, but I think this fight will be underwhelming and won't live up to the public's expectations as the hype around it will be through the roof. I am looking forward to the pre-fight banter between two of the best trash talkers entertainment has ever seen. They will definitely do their part in putting on a show the next couple months.
Face it everyone, you know Floyd's going to dance around for 12 rounds avoiding the devastating hooks from Conor but will do enough damage as a counter fighter because he's one of the greatest ever to do it. He will sway the judges and win in a decision as the fight goes the distance. But at the end of the day, they both will leave winners with their body's in tact and find their bank accounts with a few additional zeros.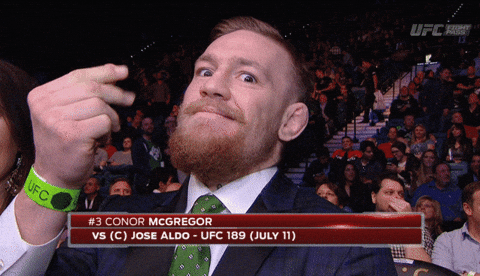 DG: Unlike LordTree, I have been drinking the Kool Aid and I think this fight is going to be pretty good. I do agree that the pre-fight antics will be better than the actual fight, but the fact that people are already counting McGregor out is NUTS to me. When push comes to shove, whether it's boxing or MMA, this dude is a fighter at heart and he will not back down to Floyd.
Floyd is 100% the better boxer, but why are we assuming that Conor can't box at all? Just because he hasn't done it? We all think LeBron would dominate at football, but yet he's never played in the NFL. Why can't Conor find some success in boxing? Yes, he's technically never boxed in a square circle, but when he trains, he does focus on boxing aspects. Boxing, dodging, sparring, ducking, moving, etc. Conor even said it himself that when he trains for a UFC fight, he has to work on all aspects of a fight. Boxing, submissions, defense, ground work, etc. For a boxing match, all he has to do is just focus on boxing and boxing only. You're telling me that one of the best fighters in the UFC can't become a better boxer with a full training camp? It's not like he's starting training now. He's been boxing for months now, working on his craft.
Floyd is 40 years old. Conor is 28 and in the prime of his career. The boxing conditioning will definitely be a factor for Conor, something that Floyd is used to. There are going to be rounds where Floyd is going to dip and dodge McGregor to death and carve him up on defense. It will happen. Floyd is way to good to not dominate some rounds. He's undefeated for a reason. But all Conor needs to do is just catch Floyd with one left hook. Just one solid left hook and it could be over.
I've done enough convincing myself of what's going to happen.
Conor McGregor is going to beat Floyd Mayweather on August 26th. Let the trash talking begin.