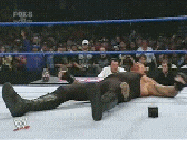 The Knicks trailed the whole night. They played horrible. Nothing was clicking. It honestly looked like a lack of effort was the biggest problem. They were getting worked by the worst team in the NBA, the Brookyln Nets, for 85% of the game. Just another bad loss to add to the resume.
But then, the people of Gotham needed a hero when they were down 10 with 10 minutes left in the 4th quarter. Did they look to Bruce Wayne? No.
They looked to the end of the bench. Yes, I'm talking about Sasha Vujacic.
Sasha Vujacic. Sasha Vujacic. SASHA VUJACIC. There was one point where I would've traded a rubber band for Sasha. That's how bad it got. But somehow this man had not one, but TWO 4 POINT PLAYS.
The lineup of Brandon Jennings, Sasha Vujacic, Justin Holiday, Kristaps Porzingis, and Slick Willy Hernangomez got the job done in the 4th quarter. Not Melo. Not Noah. Not Lee. Not Rose. Someone call Jesus because he just walked on water.
MVP of this game – Jeff "The Horn Dog" Hornacek. Criticize Horny all you want, but I'll say this. I absolutely LOVE that when the Knicks make a comeback, he rolls with the squad that's working the best. He doesn't go back to his cold starters off the bench. He rolls with the group that got you back in the game. I respect the hell out of that. I'm all for it. I don't care if Sasha Vujacic is on the court in crunch time. Go with what got you there and Horny time and time again will do that.
Is this false hope? Probably. But hey, just when you want to declare them dead, the Knicks come back to life. The Knicks are officially back…until they play the Cavs on Saturday.