Written by Luke of Ain't No Daisy
Conor McGregor is a living legend. In just over three and half years, he's become the first simultaneous multi-weight champ in UFC history. aka Mr. Two Belts. He holds a host of other UFC records including fastest title victory in the UFC (13 seconds) over Jose Aldo, most KO's in the UFC featherweight division, most performance of the night awards in the UFC among others, and he was Ireland's Most Stylish Man in 2015. If you can't tell, I'm a huge fan of Conor, but I'm also a huge fan of other fighters which is why I'm writing this article in the first place. I don't particularly like what Conor's done with the Featherweight division over the last year (nothing), and I'm afraid he's about to do the same to the Lightweight division.
With his decisive – actually brutal – win over Eddie Alvarez last Saturday, Conor has a lot of choices for his next fight. I say Conor has choices because let's be honest, he has the UFC by the proverbial balls. I just hope that he and the UFC decide to give the right guy the next shot at the belt. Let's take a look at some of the choices.
Lightweight
Khabib Nurmagomedov (24-0 MMA, 8-0 UFC, Ranked #1 in Lightweight (LW) Division)
Khabib Nurmagomedov is the dominant Russian who is currently undefeated in his MMA career. He also fought at UFC 205 and put on just as impressive, albeit slightly more boring fight, as Conor McGregor. Stylistically, Khabib is a nightmare matchup for Conor. The two time world Sambo champ would likely end up taking Conor down and smother him until the fight was over. Basically what Chad Mendes tried to do except Khabib would try to stay in the fight unlike Mendes, who was knocked out. The guy has deserved a title shot for probably two years and unfortunately has been on and off the injured list for almost as long. Khabib has only fought twice since April of 2014 and Conor is well aware of that. That being said I also think that's a big part of why he won't get a title shot. The UFC knows where the money comes from and it might not be great business for them to have Conor lose the belt in his first title defense.
Tony Ferguson (23-3 MMA, 10-1 UFC, Ranked #2 in LW Division)
Tony Ferguson is another grappler who is looking for a shot at ONE of Conor's belts (it feels so funny to say that). This dude is on a 9 fight win streak (not quite as many as Khabib's 24 wins in a row but…) and his last win was against the former LW champ Rafael Dos Anjos. Tony was a wrestler in High School and College and earned himself a Michigan state championship and an NWCA (not NCAA) national title, neither of which is an easy task. Sure there are better grappler's (see Khabib), but I don't think Conor is one of them. Tony is no slouch on his feet either, he has 9 wins by KO/TKO and 7 more wins by submission to his name.
Nate Diaz (20-11 MMA, 15-9 UFC, Ranked #5 in LW Division)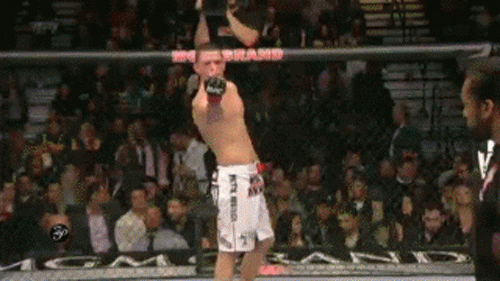 Ahhh yes, the money fight. The rubber match. This is the fight that millions (maybe more) want to see. We all know the history between Conor and Nate, and we can all see the dollar signs in the eyes of the UFC Executives. I don't think I really need to explain much further why Nate Diaz is a possibility for the next fight with The Notorious One. Besides, who wouldn't want to see another build up to a fight between two of the most prolific shit talkers in all of the UFC?
Featherweight
Jose Aldo (26-2 MMA, 9-1 UFC, Interim Champion Featherweight (FW) Division)
The rematch. In my opinion, Jose Aldo deserves a shot at McGregor the most. He is the #1 contender. He did what the UFC asked and beat Frankie Edgar for the Interim belt. Conor doesn't want to fight Aldo again. He beat Jose in 13 seconds flat and he's done with him. I get that, but I also think Jose deserves another shot. Before losing to Conor he was unbeaten for ten years straight. Everyone knows he can put on a better performance than that 13 second stunner. The real problem here is now even Jose is sick of waiting. He is currently in talks with the UFC to be released from his contract.
Frankie Edgar (21-5-1 MMA, 15-5-1 UFC Ranked #2 FW Division)
I know Frankie Edgar is a long shot to get the next fight with Conor McGregor. I'm putting him here because I believe Conor should have to defend the featherweight title next, and just in case the UFC can't talk Jose Aldo into fighting, Frankie would most likely be the next guy up.
Honorable Mention
Tyron Woodley (16-3-1, MMA, 6-2-1 UFC)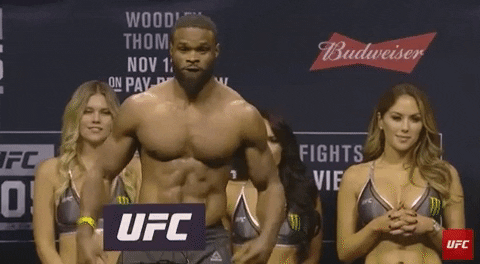 I don't if you guys watched the post fight press conferences, but there have been some talks of Conor going back up and fighting for a third title. I'm not sure if it's just Conor blowing smoke or if Conor really thinks he can take out Tyron but I don't think this would be a great fight for Conor. In my opinion this would be a dream fight for Tyron Woodley. Tyron Woodley reportedly walks around at 195 Lbs. Conor had trouble bulking all the way up to 170 for his second fight vs Diaz. Maybe I'm wrong and maybe Conor could pull it off but in my opinion, there are much better and more exciting fights out there.
Georges St. Pierre
This would be interesting. GSP is supposedly close to a comeback (which I CAN NOT wait for) and McGregor and GSP have been linked together in rumor mill before. This would be a crazy comeback fight and a HUGE money draw for the UFC.
So what's next?
Like I said before, I think Conor should have to go back to featherweight and defend the title. That whole weight class has been logjammed since Conor beat Aldo NEARLY A YEAR AGO. Enough is Enough. If you want to keep the belt, defend it. Period. If Conor does go back down to 145, Tony Ferguson and Khabib Nurmagomedov should fight each other for the #1 contender spot at lightweight. The winner of that match is waiting for Conor when he gets back from hopefully defending the featherweight belt against Aldo. If Aldo retires, give Frankie Edgar a shot. He is the #2 guy and he's coming off a great win against Jeremy Stephens.
If the Champ doesn't want to defend the Featherweight title, they should take it away from him and make him defend the lightweight belt against Khabib Numagomedov. Unfortunately, that's just what I think SHOULD happen. We all know where the UFC Brass's head is at ($$). What I think WILL happen is Diaz jumps over the four guys ranked ahead of him at lightweight and gets the rubber match and a shot at the belt. Don't get me wrong, that fight would be awesome too. I just think there are other people that are more deserving of a title shot.
The very worst part of all this is that Conor announced last Saturday he might be taking some time off. Of course he has a very noble reason, a baby on the way is no small task. Congrats to Conor and Dee. Conor did however say that the baby isn't due until May which is plenty of time for a full fight camp and one more fight before the baby arrives.
My prediction: McGregor vs. Diaz 3 for the Lightweight Title next March. Conor wins by Unanimous decision.