I, DG, am a Duke basketball fan.
That's not an easy thing to say considering all of the backlash one might get if they say they like Duke. Plus, you have to be ready for all of the "haters" that will come your way. "Duke sucks." "I hate the way they play." "You're a Duke fan? No surprise there."
The stereotypical Duke basketball fan is described as a "rich, snobby and spoiled white kid who knows nothing about basketball, loves white basketball players and fundamentals." Well for starters, I am not rich. I am not snobby. I am not spoiled. I know a good amount about basketball. JJ Redick is my favorite Duke player of all time and yeah, I like a good layup once in awhile. Sue me.
I have loved Duke basketball ever since I was a little kid. Going to Duke games at MSG always brings back good memories. My parents were always Coach K fans and since then, Coach K has been an idol for me. Duke legends like Christian Laettner, Bobby Hurley, and Grant HillI paved the way for the future. I remember the days of Jay Williams, Carlos Boozer and Mike Dunleavy. I fell in love with the team of JJ Redick, Shelden Williams, and Chris Duhon. I got the surprise championship when Jon Scheyer, Kyle Singler, and Nolan Smith beat Butler. The young guns won a title with Jahlil Okafor, Justice Winslow, and Tyus Jones. It showed that Coach K can play the "one and done" recruiting game as well.
Whatever reasons you have, you either love Duke or hate Duke. I choose to love Duke. Sorry I like winning. That's the biggest reason why everyone hates Duke. They win and they win a lot. *cough* five national titles *cough*. Plus, the media always creates a "Duke villain" that fans can hate. Christian Laettner, JJ Redick, and now Grayson Allen. Guys who all play hard and will die on the court in order to win ball games. What's wrong with that? I'll tell you what. Nothing is wrong with that because it leads to wins.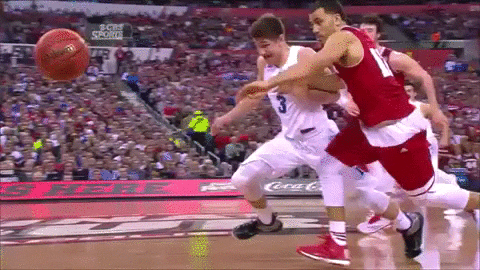 This year's Duke team is LOADED. Grayson Allen, Matt Jones, Luke Kennard, and Amile Jefferson return as the standouts from last year. Freshman Frank Jackson has already proven he's a force at PG. Did I mention that two of the top five recruits in the nation, Harry Giles and Jason Tatum, have not even played a game yet for the Blue Devils? If those two studs can get healthy, there is no reason why this team should not at least make it to the Final Four.
So I'm going to wear my Duke sweatshirt and jersey with pride. You want to call Duke the villains, fine. I'm more of a villain guy anyway. The good guys can't always win. That's life.